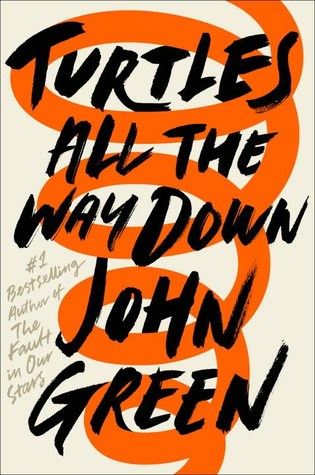 Oh, my, this book did make me cry.   A good cry, and so that alone earns it five stars.  I know.  Big surprise. A John Green book is good.  Not news.
But still.  I want to talk about it, and promise no spoilers.   Here are some things I loved about this book:
A great first person narrator.  Aza is smart, too smart, and her intelligence causes her to ask a lot of questions about life, identity, self, relationships.  She also has issues, and ones that make her very difficult to friend.   I identified with this character, and reading her story reminded me of so much I had forgotten about myself that it was like finding an old box of pictures and seeing images of me from the past and thinking– wow, that used to be me, and then, that still kind of is me.
I went to a holiday party just a day ago as of this writing, and I sat down at a table with a group of people, and I couldn't have felt more like an alien.  They were all having fun, talking about nothing, just babbling, and I couldn't enter the conversation.  I have no small talk game at all.  It's not something good or bad, but my mind was full of the books I was reading, books I was writing, and I wanted to ask people about them, about their work and their dreams and their lives, and when I did they just looked at me like I was the biggest weirdo in the world.
So, yeah, I get Ava.
As in many of these books, we have missing adults.  Aza and her romantic interest have both lost parents.  And it has a mystery in the form of another parent who had vanished.  But those are all just McGuffins.   What this book really explores and what hooked me is a very earnest and well bred human being searching for answers, trying to understand who she is and why and how to get through the day without freaking out.
It's a glorious, messy and inspiring.  I'll leave others to complain about this or that or the other.  I fell in love with the characters and their struggles to just find a way to be people, and I recommend this book to anyone who has ever stopped to wonder.